Licensed Electrical Contractor
CA ELECTRICAL GROUP 24/7
CA ELECTRICAL GROUP 24/7 is a full-service electrical contractor. We have vast experience with over 15 years known for our safety, credibility, ingenuity, and professional work in electrical installations. We have developed a reputation for high quality, innovation, and absolute customer satisfaction. Our electricians are current with their knowledge in all of California and other municipal Electrical Codes. We regularly receive praise from city inspectors regarding the quality of our work. We are continually raising the bar with all of our projects. We believe that the most important investment is in our people, that is why we will always keep investing in training and qualifying the best people for the job. We understand the importance of having the power in your home or business. We pride ourselves on being 1000% committed to your needs. Whatever they may be, installing electrical systems or handling a rewiring project allows us to treat each one with the same tenacity and efficiency. As licensed and insured electricians, we will provide you with quality work at honest prices. CA ELECTRICAL GROUP 24/7 offers a wide range of electrical services, including troubleshooting, electrical panel installations, service upgrades, complete rewiring, electrical safety inspections, new construction, and remodeling projects, electric vehicle car charging stations and smart home integration. Let us light up your day!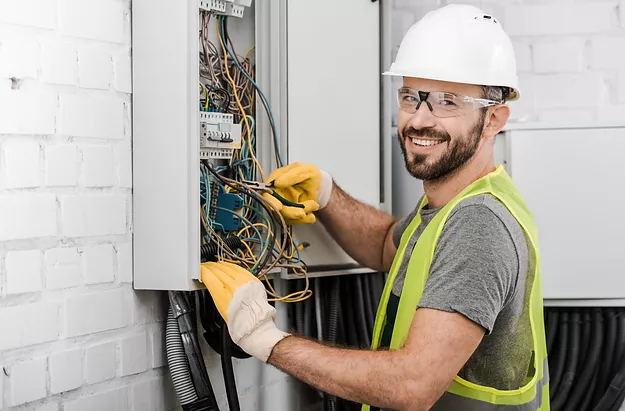 35+ yrs. Experience in the Industry

Fastest Response Times in the Industry

Affordable prices

High quality materials

Replace any aging fixtures and
power the devices that your family
depends on with our residential
electrical services and repairs.
Minimize the downtime your business
experience during any project when you
choose commercial electrician with
flexible scheduling.
Local Electricians
You Can Trust
All our techs are trained, licensed, insured, and local.
STRAIGHTFORWARD PRICING
We'll give you options for your service so you know exactly what you're getting.
24/7 Emergency Services
Our electricians are here for you, no matter the time of day…or night!
Read What Your Neighborhoods Are Saying About Us
Customers Use an Outlet to Share Their Experiences
​
I have used California electrical group for my business's electrical contracting needs for a good number of years. No matter the size of job the experience is always consistently professional.
The power inside my home is brighter and stands out more than it ever has. Thank you for improving the quality of power inside of my home.
I highly recommend CA Electrical Group
I'll couldn't be more happy with the price and service. I will recommend them to everyone I know looking for an electrician.
MAKE HOME SAFETY A PRIORITY
PREPARE YOUR BUSINESS FOR FUTURE GROWTH